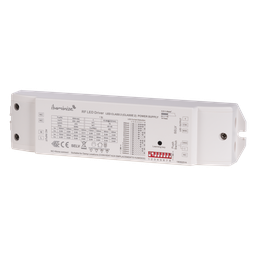 RF controller with adjustable current 250mA-1500mA, max. 50W / 48V SELV | White
RF controller Single color with adjustable current 250mA-1500mA, max. 50W / 48V SELV, IP20 | White (New)
Your price:

from

45.21

 €

48.15

 €
45.21

 €
*
Price without VAT:

48.15

 € |

VAT:

0.00

 €
Price per

Units

:

0.00

 € (

0.00

 € net)
Information
Do you want to proceed?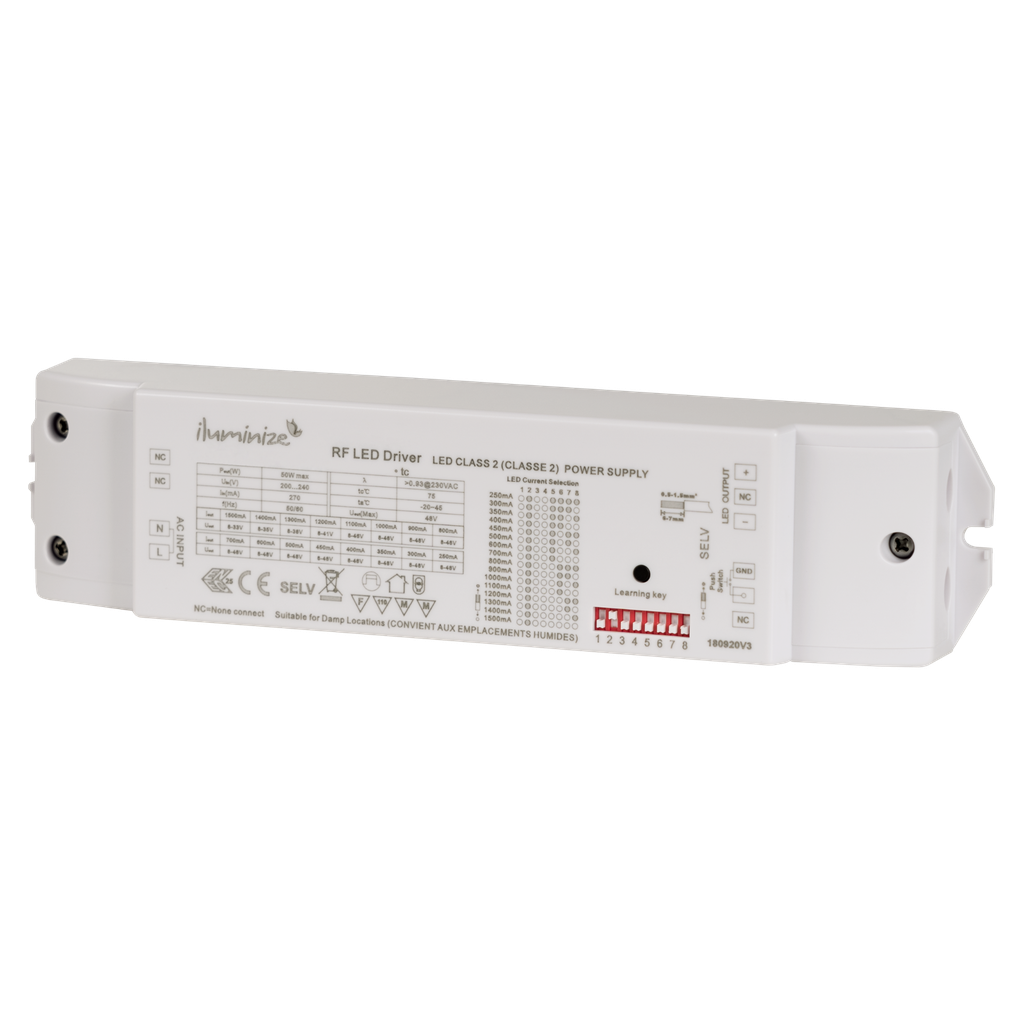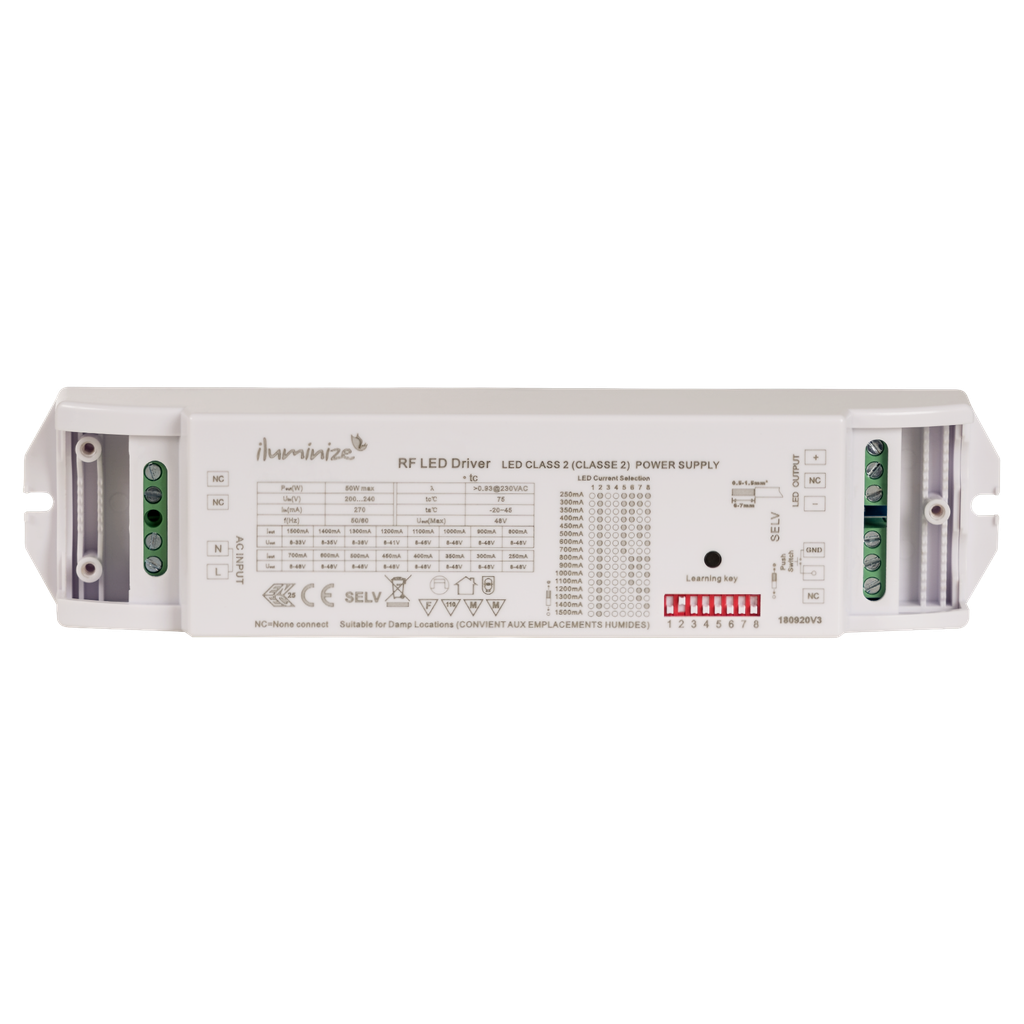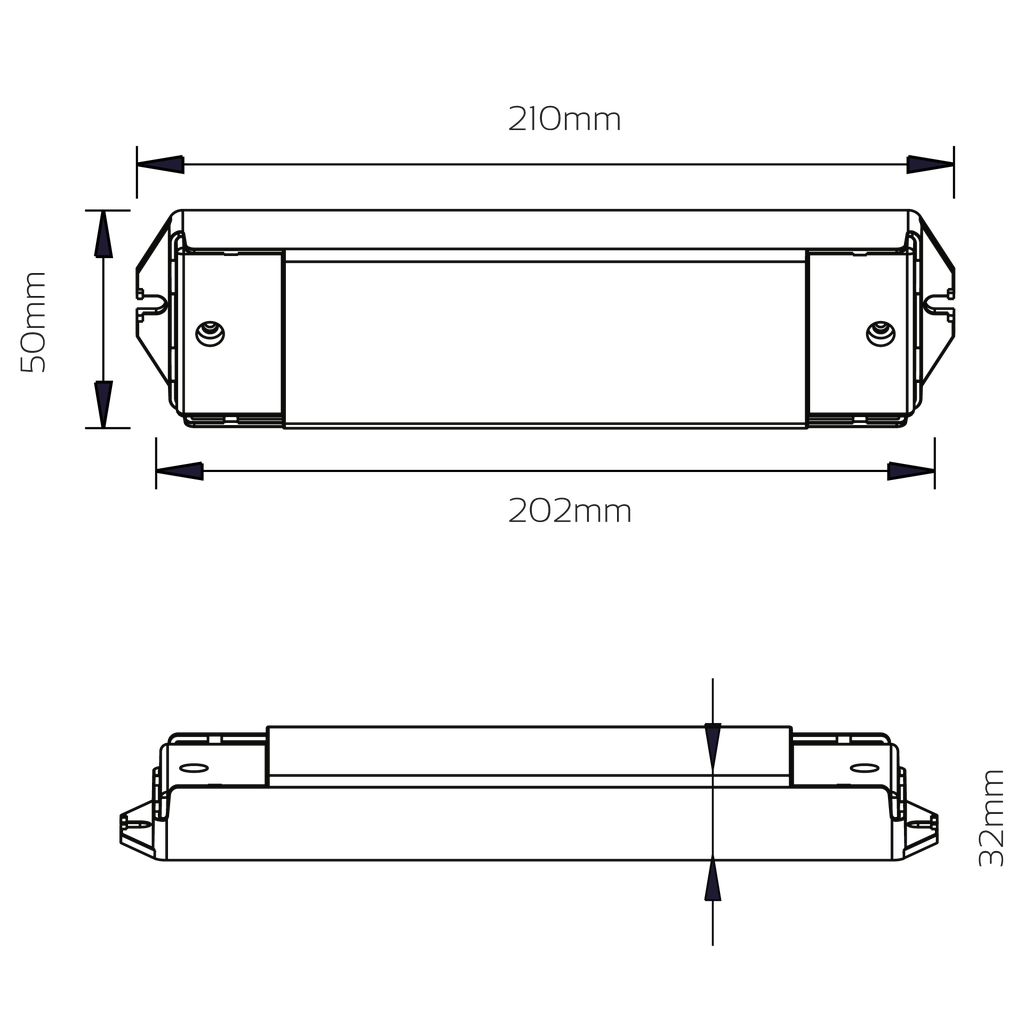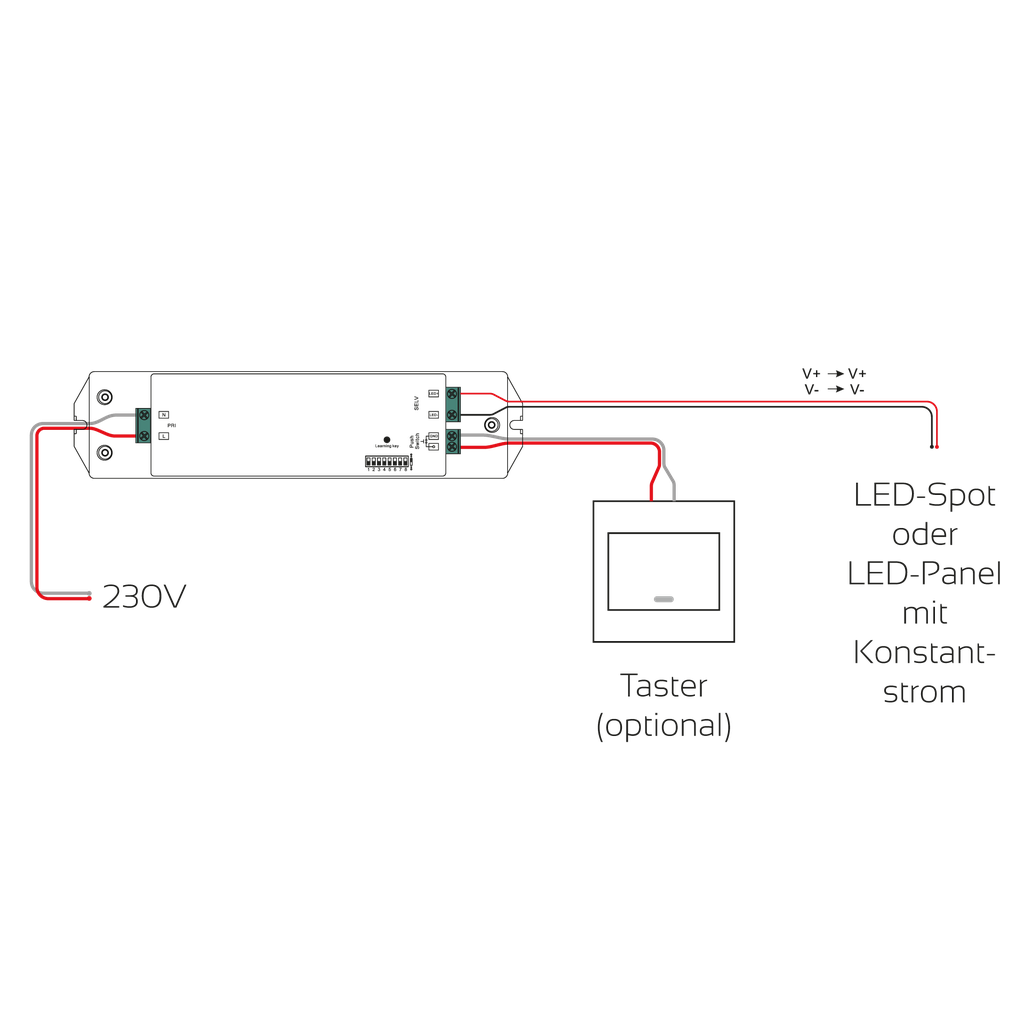 Image is similar

RF controller with adjustable current 250mA-1500mA, max. 50W / 48V SELV | White

---
The right lighting is, as so often in life, also a question of setting. With our flexible controller you can operate your single color LED spots and LED panels without additional components.
It acts as a power supply and controller in one and also offers the function of adjustable current. So you control your light dynamically and with different currents.
Please note: Our iluminize wireless system is NOT compatible with the following Zigbee controls:
Zigbee handheld remote control

Zigbee Wall Dimmer

Zigbee desk dimmer
3
---
Delivery and shipping costs details *
Currently no delivery date can be given.
Only pickup at our warehouse is possible!
No shipping rule found. Please contact our customer support.
We ship this product to the following countries (pickup for EU citizens of all countrys possible):
---
Der einstellbare Funk LED-Controller - bestens gewappnet für den Betrieb mit verschiedenen Strömen              
Der iluminize Funk Controller harmoniert perfekt mit LED-Lampen und Leuchten, die folgendes mitbringen: sie sind dimmbar bei Konstantstrom zwischen 250mA - 1500mA und sie können mit der Pulsweitenmodulation (PWM) gedimmt werden. Die Spannung wird hierbei vom Controller bestimmt und muss zu der LED-Spannung passen. Beispiel: ein 48V LED-Panel darf nur mit einem 48V Netzteil betrieben werden.
Sind die genannten Voraussetzungen erfüllt, eignet sich unser Controller für
LED-Einbaustrahler

LED-Treppeneinbeuleuchten

LED-Möbeleinbauleuchten

LED-Panels
Schon gewusst? Trennst du den Controller von der Stromzufuhr, erinnert sich beim nächsten Einschalten an die letzte Einstellung!
Flexible Ströme
Den Kernpunkt unseres Controllers bildet ein entscheidender Faktor: flexible Ausgangsströme! Der Strom ist einstellbar und der LED-Controller wird direkt an das 230V Stromnetz angeschlossen! Somit können Spots und Panels mit den verschiedenen Strömen, bis zur einer max. Ausgangsleistung von 50W, betrieben werden ("Mäuseklavier").
| | |
| --- | --- |
| Ausgangsstrom | Max. Spannung |
| 250mA | 48V |
| 300mA | 48V |
| 350mA | 48V |
| 400mA | 48V |
| 450mA | 48V |
| 500mA | 48V |
| 600mA | 48V |
| 700mA | 48V |
| | |
| --- | --- |
| 800mA | 48V |
| 900mA | 48V |
| 1000mA | 48V |
| 1100mA | 46V |
| 1200mA | 41V |
| 1300mA | 38V |
| 1400mA | 35V |
| 1500mA | 33V |
Zusatzfunktion: Optional ist es möglich, den LED-Controller über Taster aus deiner normalen Elektroinstalltionsserie zu bedienen. Sowohl das Ein-/Ausschalten (kurze Tastenbedienung) als auch das Dimmen (lange Tastenbedienung, wechselnd heller / dunkler) sind dabei möglich. Die Spannung kann 8-230V betragen und ist damit mit sehr vielen Tastern kompatibel.
Das iluminize Steuerungssystem
Der LED-Controller wird mit bis zu 8 Funk-Bedienungen aus dem iluminize Steuerungssystem gekoppelt. Zur Auswahl stehen Hand-Fernbedienungen, Wanddimmer oder Deskdimmer. Die Funk-Bedienungen arbeiten aber unabhängig, teilen sich jedoch die Szenen. Das heißt, eine mit der Fernbedienung unter S1 gespeicherte Szene arbeiten genau so auf z. B. dem ebenfalls gekoppelten Wanddimmer.
This is a preview of the recently viewed products by the user.
Once the user has seen at least one product this snippet will be visible.
Recently viewed Products